How to set up your integration if using multiple locations utilizing separate Studio IDs from Mindbody
Did you know that the number of separate Sync Profiles is equivalent to the number of unique Mindbody (MBO) Studio IDs you have in terms of integration? 
Not the number of locations in Mindbody.
Let's take a look at the way it works with Pure Barre Studios:
If your business happens to have multiple locations utilizing separate Studio IDs from Mindbody like Pure Barre Studios that you would want to sync to Infusionsoft by Keap, then you will just need to create separate Sync Profiles for each Studio ID. If QuickBooks Online then a Separate SyncApps account is needed for Intuit API certification rules.
So for instance, since you will be on our real-time Enterprise plan integration with, let's say 40 Mindbody locations, you have set up 2 in the above example and will need to set up 38 more Sync Profiles for them set up in the exact same way if using Infusionsoft by Keap.
Should take 5 minutes to set up each integration for each separate Mindbody Studio ID.
However, if you're just intending on syncing "Locations" in Mindbody this is optional so if it is not specified in Step 1 then SyncApps will retrieve data from all of your locations within the Mindbody site.
If you have recently added a new location which has it's own location on your Mindbody account and would like to set up similar syncing between that location on Mindbody and it's own Infusionsoft account you can set that up using the Location to Sync feature and in Step 2 use the unique Infusionsoft account needed to integrate to.
If multiple QuickBooks Online instances need to be integrated to Mindbody Studio(s) then separate SyncApps account(s) are needed for Intuit API certification rules. 
Reach out to our team for any help in this setup.
We've found that over time this should save your business 2 hours per month per location.
Feel free to drop our Support a note here if you hit any snags during the setup process.
Sync Specific NetSuite Transaction Saved Searches To Mailchimp Groups, Constant Contact Lists or even Infusionsoft by Keap or Drip Tags
Want to use NetSuite Transactional Saved Searches to Mailchimp Groups, Constant Contact Lists, Klaviyo, or even Infusionsoft by Keap or Drip Tags, so that you can target customers who have purchased before, based on price point, a varietal of product, region, etc?
Let's go thru one example below:
In Step 1 of your integration choosing a NetSuite Saved Search is easy to do:
Whether you are integrating Customers, Contacts, Employees, Vendors or Transactions.
This example is a Transaction Saved Search.
This can be useful to bring over to your Marketing Automation Solution those records to market to which have a higher transaction value, buying patterns and other key indicators for your business.
Mailchimp Groups:
Constant Contact Lists: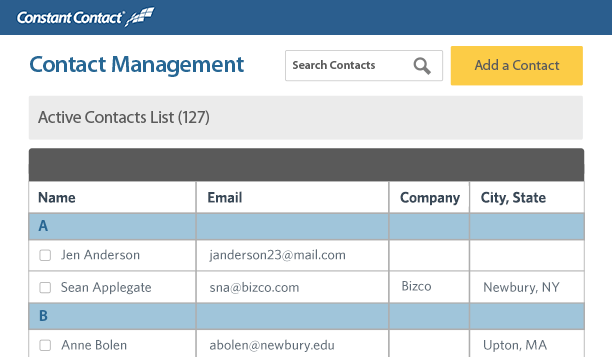 Drip Tags:
Infusionsoft Tags:
Get started on your Marketing Automation integration to NetSuite today.
NOTE:
Using NetSuite Saved Searches for Customer, Contact Employee, Vendor, or Transaction from NetSuite will expose fields in the Field Mapping step for each. More than one Saved Search can be specified. NetSuite supported Saved Search record types: Contact, Customer, Partner, Transaction. 
Each NetSuite Saved Search will be synced to a Mailchimp Group within the specified Audience and Group Category.
Each NetSuite Saved Search will be synced to an Infusionsoft Tag.
Each NetSuite Saved Search will be synced to a Drip Tag.
Each NetSuite Saved Search will be synced to an Infusionsoft Tag.
How Xero integrate to other software on SyncApps
Integrate XERO TO SYNCAPPS!
Don't spend hours every month creating invoices from CRM opportunities in Xero or importing contact data into your Email Marketing platform. Get connected.
SyncApps and Xero integration: the easiest workflow for your sales and marketing teams
Your business can once again focus on your sales by seamlessly integrating Xero with your Marketing, eCommerce, Support and other mission-critical applications. 
In the 2 Week Free Trial here you get to do the following:
Xero customer and contact data syncs seamlessly with your Email Marketing Lists
Customers in your SyncApps are automatically synced bidirectionally to Xero
Sync Xero Contacts to your SyncApps as any new Contacts are auto-created if they do not exist
Automatically map fields from your software applications to Xero
NetSuite Concurrency for web services with SyncApps
Concurrency for web services and RESTlets is currently governed separately per user and authentication method. When the upcoming change takes effect, the new account governance limit will apply to the combined total of web services and RESTlet requests. With the change, you will not need to use concurrent web services user to be able to send more concurrent requests for web services with token-based authentication.
We have identified that you may exceed the new account concurrency limit. Please review this notice to understand how to avoid errors after the new limit is enforced.
1) Does the SyncApps code use NetSuite web services? 
Yes, SyncApps uses NetSuite Web Services to integrate all software integrations to NetSuite.
2) Does it make concurrent calls?
SyncApps does not make concurrent calls unless you select this feature in Step 6 of your integration for "Run multiple concurrent Syncs" and are using TBA, Token Based Authentication in NetSuite.
3) Is there a danger in this change?
That should not be a problem. SyncApps also will retry the API call if it gets concurrent exceed the limit error which catches up on any data on subsequent integration runs.
If you get an error using SyncApps around NetSuite Concurrent Web Services please see if other integrations are being scheduled at the same time.
| | | |
| --- | --- | --- |
| 15 Apr 2018 | ERROR | Error on sync: Only one request may be made against a session at a time (Error code: WS_CONCUR_SESSION_DISALLWD) |
This usually occurs when you have simultaneous integrations scheduled to run at the same time. To fix this please schedule integrations to run at different times to avoid this error or use TBA as discussed above.
NetSuite Summary Saved Search search column not Syncing
Wondering why your NetSuite Summary Saved Search search column is not syncing?
SyncApps does not currently support this feature in NetSuite's API yet might in the future.
To prevent this type of error:
Error on sync: Error on retrieving page 1 of saved search: Cazoomi Test List.
We cannot return search columns for summary saved search XXXX. Please make sure that save search type in configuration matches save search type in NetSuite. If the problem still persists please read the following KB article http://support.cazoomi.com/hc/en-us/articles/204089345 (Error code: INVALID_SAVEDSEARCH)
Solution:
In NetSuite, edit the Saved Search and make sure no summary column (max, min, max, sum, etc)  is defined in the "Results" tab. The summary type must be blank for all fields.


Having trouble with NetSuite permissions too? See it here today and get your Sync Profile syncing correctly.
Unprocessed and filtered records
SyncApps will only sync specific records that do not contain these Group/Role email addresses. Reason for this is that these are not "person" emails because they might cause spam complaints and blacklisting. 
To read a deep dive why Constant Contact and others do not send to these addresses read here.
These are the following Group/Role email addresses that SyncApps will ignore when Filtering feature is enabled:
abuse@
admin@
all@
everyone@
ftp@
investorrelations@
jobs@
marketing@
media@
noc@
postmaster@
prime@
privacy@
remove@
request@
root@
sales@
security@
spam.*@
subscribe@
usenet@
users@
uucp@
webmaster@
www@
@yahoogroups.com
@googlegroups.com
noreply@
@example.com
Note:
If you are syncing any @yopmail emails with your email marketing this will cause errors to appear as Mailchimp and others have banned this domain so to avoid any errors just set up a filter in SyncApps with "Email does not contain @yopmail.com" criteria in your Sync Profile.
Need to sync these email addresses? You may also select this feature in Step 2 of the Sync Profile:
Sync Revenue Data From NetSuite to HubSpot
Looking for an integration that lets you pass or sync revenue data from NetSuite to HubSpot?
Such revenue data comes from the financial system of NetSuite.  Look no further!  Definitely, it is SyncApps NetSuite to HubSpot integration.
A subscriber just recently raised this certain idea of whether SyncApps supports such an integration scenario to sync revenue data specifically from NetSuite to HubSpot.
Specific fields needed to map include:
1. Date of the first invoice issued
2. Date of the latest invoice
3. Amount of latest invoice
4. The total invoice amount for each company (Total Revenue)
5. Number of invoices for each company
And sure, SyncApps can meet this requirement!
Instead of mapping fields from multiple objects like the Customer, Contact, or an Invoice record, a best practice using SyncApps is just to use a NetSuite Transaction Saved Search.
To elaborate, use a Transaction Saved Search to drive records from NetSuite into HubSpot is simple OR you can also create those 5 fields on the Customer record in NetSuite and map them in SyncApps to be populated into HubSpot as well. Just an issue with that is they would always be updating NetSuite to HubSpot, if this is ok then you can do this method.
Take a NetSuite for HubSpot test drive today! 
If you hit any snags, give our experts a shout-out 24/7.
NetSuite Dynamic Discovery Method used in SyncApps Integrations
SyncApps uses dynamic Data Center URL discovery which is the appropriate NetSuite service discovery method in our web services integrations to ensure all API requests are sent the correct location where your NetSuite account is hosted. 
Dynamic discovery methods also return your account-specific domain.
See the following help topic from NetSuite:
If you have more concerns around the NetSuite Dynamic Discovery Method then please reach out to our 24/7 Support Team today!
NetSuite Saved Search best practices for integration
Running into any roadblocks regarding the integration options for NetSuite Saved Searches?  
First, to find the Saved Search internal ID (numeric) ID just look for the ID which is at the end of the NetSuite Saved Search URL in your browser when you run it to see a Saved Search you are dealing with today.
Be sure the Saved Search is set to "Public" in NetSuite as well. 
Based on the screenshot above, when you select "Specific NetSuite Saved Searches" under Records to Sync, then when you specify the ID, TYPE, the record(s) under the Saved Search ID will be synced to that new/existing specified Marketing Automation List Name.
By selecting a Saved Search to test out or to use in your integration will allow your integration to review all your NetSuite records with valid email addresses and then narrow down to just the Saved Search(es) which will allow better segmentation in your target software. 
Using NetSuite criterion to narrow down NetSuite records in a Saved Search for use in your integration:
When building your Saved Search for use in an integration note that sometimes what runs in NetSuite will not work with their API. The last modified date criteria addition does not work for "Use Expressions" with OR logic. It will produce an incorrect Saved Search result.
Let's get a bit into the weeds here so your NetSuite Saved Search will follow best practice for integration.
Please put one more outermost parenthesis in this use case below:
(Inactive = false AND .. AND ..) OR Name/ID = ... OR Name/ID = ...
TO
(( Inactive = false AND .. AND .. ) OR Name/ID = ... OR Name/ID = ...)
If Saved Search criteria "Use Expressions" is checked then criteria MUST be wrapped with parenthesis "(" and  ")"
SyncApps will need to add one more last modified criteria.
If wrapper parenthesis is not added then the NetSuite Saved Search could produce an incorrect result especially if criteria contain OR logic.
For example:
Name = "A" OR Name = "B" must be changed to (Name = "A" OR Name = "B")
If you get any permissions Error on Sync Profile or NetSuite Saved Search with the internal ID x does not exist, please go to the following URL to review NetSuite Role and TBA permissions solution.
Note:
Do not use the

Summary Saved Searches

because they are not supported in NetSuite's API.

Formula fields cannot be retrieved using NetSuite's Saved Search API.
To find out more check out our subscriber's story here on how SyncApps helped them save 100s of hours per year integrating NetSuite!
Feel free to reach out 24/7 to our Support Team if you get stuck.